Happy New Year! We wanted to send out a quick update announcing the new features in Edit Flow v0.8.
New Feature: Dashboard Notepad
A simple, plain text notepad that allows admins and editors to leave notes that are visible to all users who have access to the dashboard. This is useful for leaving instructions, notes, or important announcements.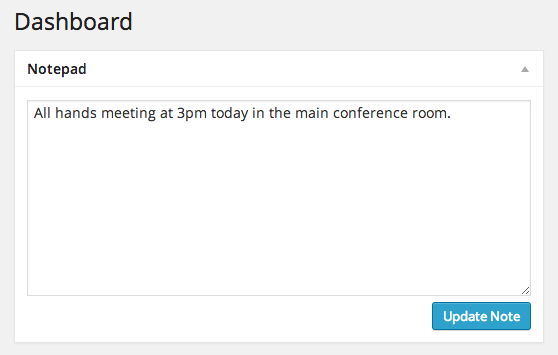 Enhancement: Post Management in Calendar
Quickly create posts or pitches by double clicking a day in the calendar.
Drag and drop posts to reschedule them to a different day.
Click on a post to see metadata and quickly access Edit, Trash, Preview or Follow buttons.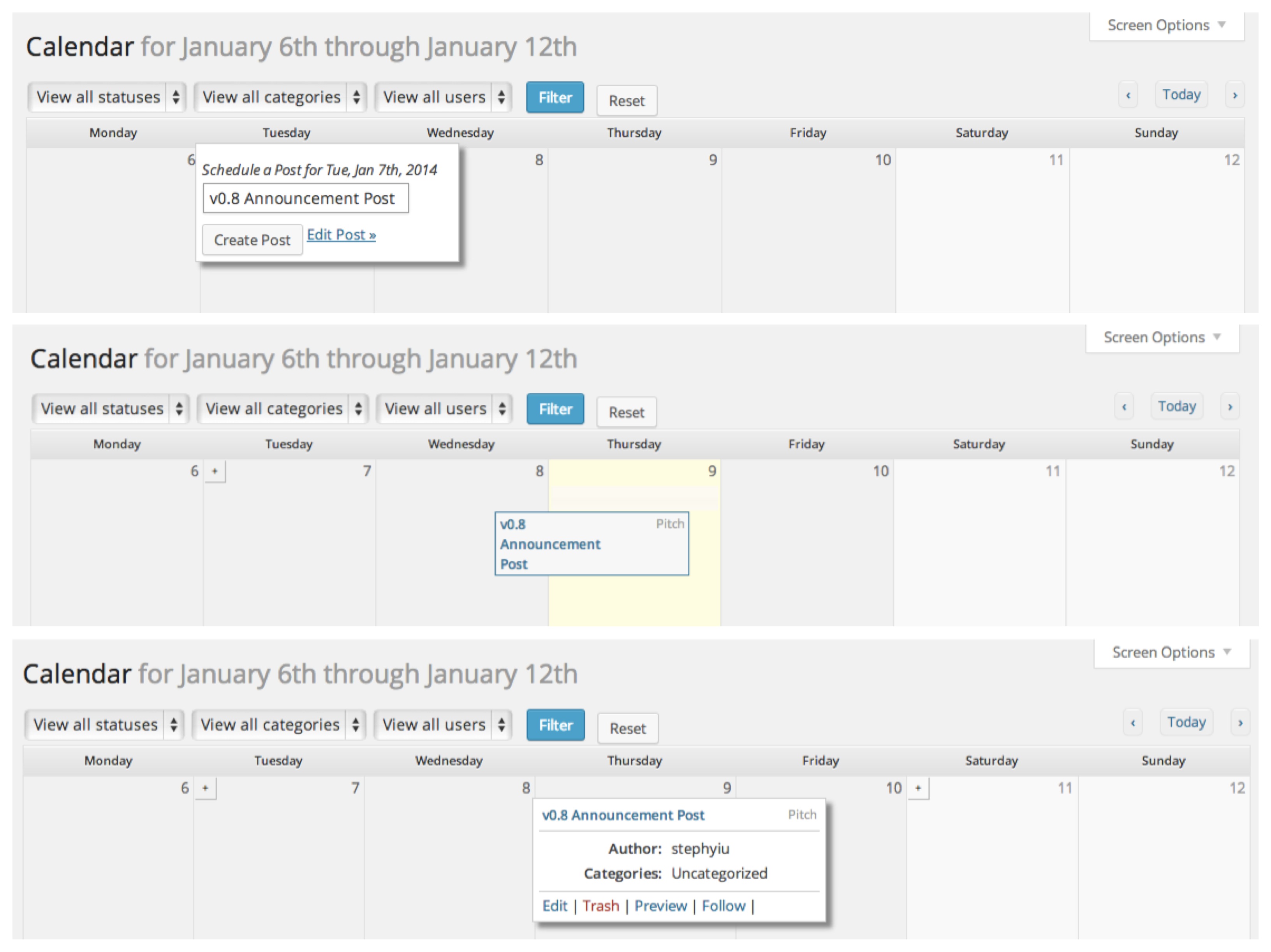 Enhancement: Subscribe to your editorial calendar
Subscribe to your calendar in iCal or Google Cal by enabling subscriptions in Calendar settings, and grabbing the secret URL in "Screen Options" on the calendar page.
Localization Updates
New Russian localization by to te-st.ru.
Updated Japanese localization by naokomc.
Updated Dutch localization by kardotim.
Other improvements:
Post Subscribers: Adding or removing subscribers to a post is now saved via AJAX, which means you can update post subscribers without clicking "Save Post."
Following posts: New "Follow" links for posts across the Manage Posts, Calendar, or Story Budget page allows editors to easily follow or unfollow posts without needing to open the post.
Editorial Metadata dates: Ability to assign both a date and time to the editorial metadata's date field, which helps clarify deadlines.
Email alerts: Scheduled publication time added to relevant email notifications.
For more details on improvements, bugfixes, and contributors, please visit the changelog and the Edit Flow development blog. 
You can follow along Edit Flow development on Github. If you're interested in contributing, the Issues page is a great place to start!
And finally, the following folks did some tremendous work helping with the release of Edit Flow v0.8: azizur, bbrooks, cojennin, danielbachhuber, drrobotnik, Fstop, jkovis, kardotim, keoshi mattoperry, mbijon, naokomc, natebot,nickdaugherty, paulgibbs, rgalindo05, te-st.ru, willvanwazer, ziz.